Device Type:
Camera Lens
Launch Date:
January 2014
Samsung 16-50mm F2 - 2.8 S ED OIS Technical Specifications
Body
Dimensions:
81 x 96.5mm
Weight:
622g
Lens
Focus:
Focal Length: 16 - 50 mm (equivalent to 24.6-77mm in 35mm format)
Lens:
Aperture: F2-2.8 (Min. F22), (Number of Blades : 9 , Circular Aperture Diaphragm)
Misc: 18 elements in 12 groups (3 Aspherical lens, 2 Extra-low Dispersion lens, 2 Xtreme High Refractive Lens)
Lens Hood: Yes
Zoom
Maximum Magnification: Approx. 0.19X
Other Features
Angle of View: 82.6° - 31.4°
Minimum Focus Distance: 0.3m
i Scene: Beauty, Portrait, Children, Backlight, Landscope, Sunset, Dawn, Beach & Snow, Night
UPSM, Splash Dust Proof
Filter Size: 72mm
Mount Type: NX Mount
Image Stabilization: Yes
Camera Lens
Please enter your comment here
Related Devices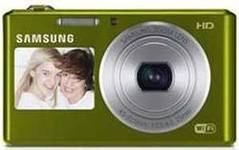 Samsung Camera DV150F
67.5mm (2.7 inch), TFT LCD screen, 1.48 inch front screen BP70A Wi-Fi connectivity Beauty Palette feature Creative features such as Smart Filter 3.0, Motion Photo and Magic Frame 16.2
Read More...
---
Samsung Camera WB200F
75.0 mm (3.0 inch) Touch TFT LCD screen SLB-10A 14.2 effective megapixel 1/2.3 inch BSI CCD 18x Optical Zoom Lens, 24 mm Wide Angle, F3.2 (W) ~ 5.8 (T)
Read More...
---
Samsung Galaxy NX Camera
16GB 121.2 mm (4.8 inch) HD TFT LCDSVGA EVF 4360 mAh Easy Sharing using 3G/ 4G LTE 1.6 GHz Dual Core Processor Photo Assist, Story Album 20.3 effective
Read More...
---
---